L.E. and Thelma E. Stephens Performing Arts Center
The L.E. and Thelma E. Stephens Performing Arts Center is a magnificent multi-millon dollar performing space that stands atop a prominent hill on the campus of Idaho State University. The grand design and modern architecture of this 110,000-square-foot edifice makes it the most extraordinary performing arts facility in Idaho, boasting three versatile performance venues and auxiliary spaces designed for academic work and community enjoyment.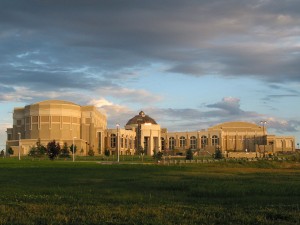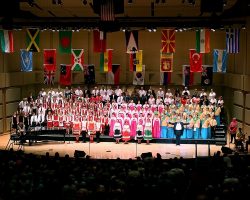 The three main venues at the Stephens Performing Arts Center include:
A 1,200-seat acoustically perfect grand concert hall.
A 450-seat thrust theater designed for dramatic performances.
A 250-seat experimental black box theater.
The performance space is complemented by classrooms, academic teaching and office space, a costume design studio, a scene development and construction shop, green rooms, dressing rooms, catering kitchen, recording studio, gallery space and a central rotunda that is frequently used for events and exhibits.
First Presbyterian Church
Choral music is a beloved and long-held tradition of the First Presbyterian Church. The congregation's Chancel Choir is composed of adult members who sing for Sunday worship services and special events, accompanied by a beautiful Wicks pipe organ installed in 1978.
The congregation is housed in a distinguished brick edifice located across from Caldwell Park in central Pocatello. Constructed in the late 1920s, the building features beautiful examples of Gothic Revival architecture including a stunning stained-glass rose window, pointed arch doorways and art-glass windows, handsome buttresses, and a castle-like tower on the northwest side.
Goranson Hall
Goranson Hall, which seats 450, is located in the Fine Arts Building on 5th Avenue within the beautiful campus of Idaho State University, Pocatello, Idaho.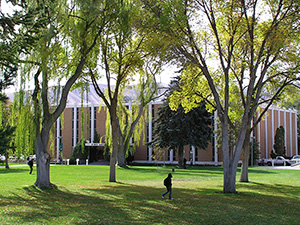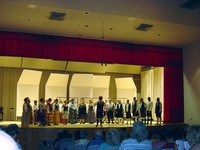 Goranson Hall and the Fine Arts Building were built in 1965. Goranson Hall is not only the home of the Idaho State Civic Symphony but plays host to many other musical and artistic gatherings in Pocatello. The Fine Arts Building also houses Idaho State University's Department of Music.
Idaho State University Quadrangle
The Idaho State University Quadrangle, known as "the Quad," is an open space on the Idaho State University campus used by the Festival for open-air concerts.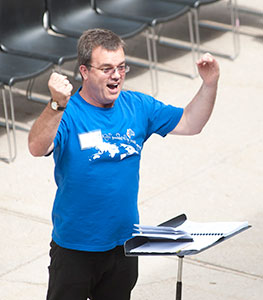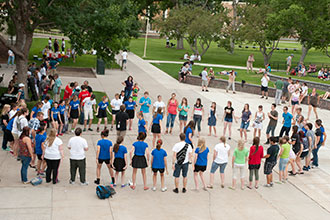 The Quad is located next to the student union building at the heart of campus and features a terraced hillside that provides grassy seating for the concert audience.
Pebble Creek Ski Area
Pebble Creek is a vertical playground located on the slopes of Mt. Bonneville that attracts skiers of all abilities. The ski area is located 20 minutes south of Pocatello in the Caribou National Forest, boasting 2,000 vertical feet, 1,100 skiable acres, and 45 ski runs. The peak of Mt. Bonneville is 8,300 feet (2,530 meters).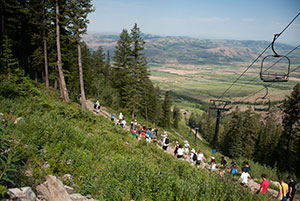 The Pebble Creek Ski Area is utilized for the Idaho International Choral Festival's opening day activities.